Are you considering wireless internet installation? Webformix provides fixed wireless internet which requires equipment installation. A radio antenna that looks like a "dish," and ethernet wiring that connects to your router provides fixed wireless internet service. If you purchase a router from Webformix, our installation technician will get it set up for you at the time of wireless hardware installation.
Webformix does not require clients to buy or rent the wireless internet equipment we install. We do require a refundable equipment deposit, and we require customers to use a surge protector with the radio antenna's power supply. Outside of these general details, we do hear some common questions about wireless internet installation that you might also be wondering about.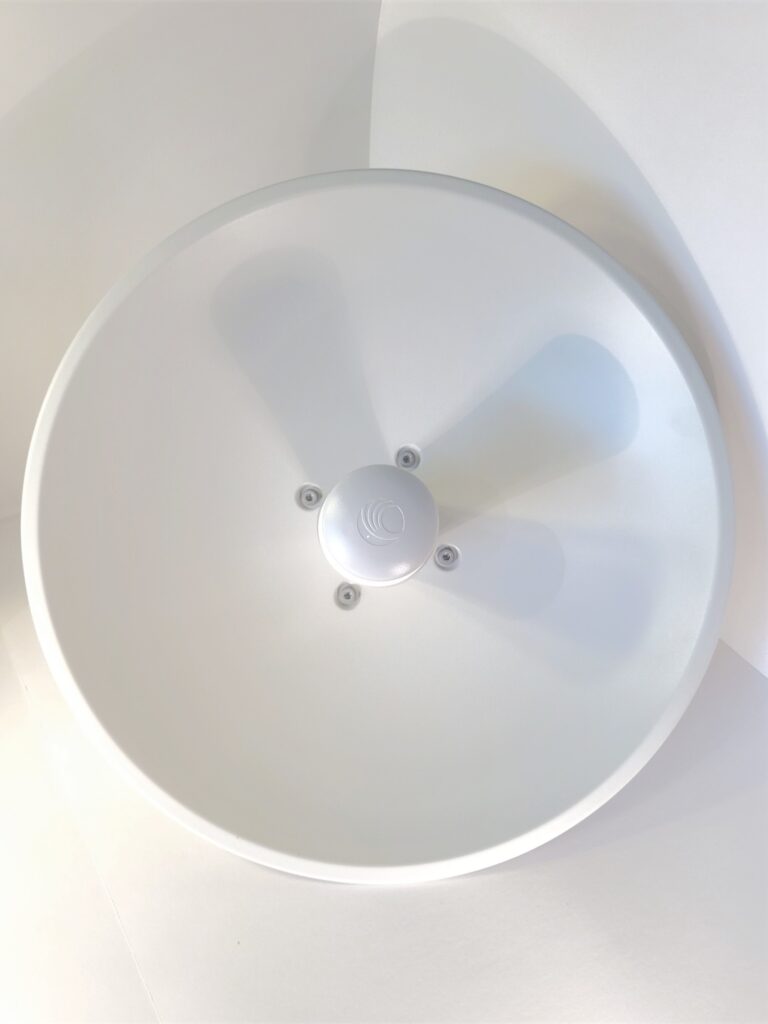 1. What Does the Radio Antenna Look Like?
Webformix uses a variety of radio antennas to get you the best internet service possible. You won't have a choice of antennas. Our technicians determine the type of antenna that is appropriate. The radio antenna is actually a modem, so it is the most important part of the wireless internet installation process. Pictured to the right is a common antenna model. This radio antenna is about 20″ wide, but the size and model will vary. We will always use the radio antenna that will ensure you get the best service. We may also occasionally perform maintenance and swap out aging equipment for newer models.
How do wireless antennas work?
Wireless antennas use radio waved to bring the internet to your home. A transmitter on a communications tower sends the signal to a wireless antenna on your home. That home antenna sends the signal to a router which is where your devices access the internet via WiFi or an ethernet cable.
2. Where Does the Radio Antenna Get Mounted for Wireless Internet Installation?
When possible, we try to mount the radio antenna on the eve of your house. Alternatively, it may need mounting on your roof. To determine where to mount the radio antenna, our installation technician will locate the best spot on your property with a clear line of sight to our nearest communication tower. Once they find a good spot, they will test the signal to make sure it will deliver reliable wireless internet service. Finally, they mount the equipment. If you want your radio antenna in a particular spot, you can ask our technician to try that location first.
3. Why Does Wireless Internet Installation Require Drilling a Hole in the House?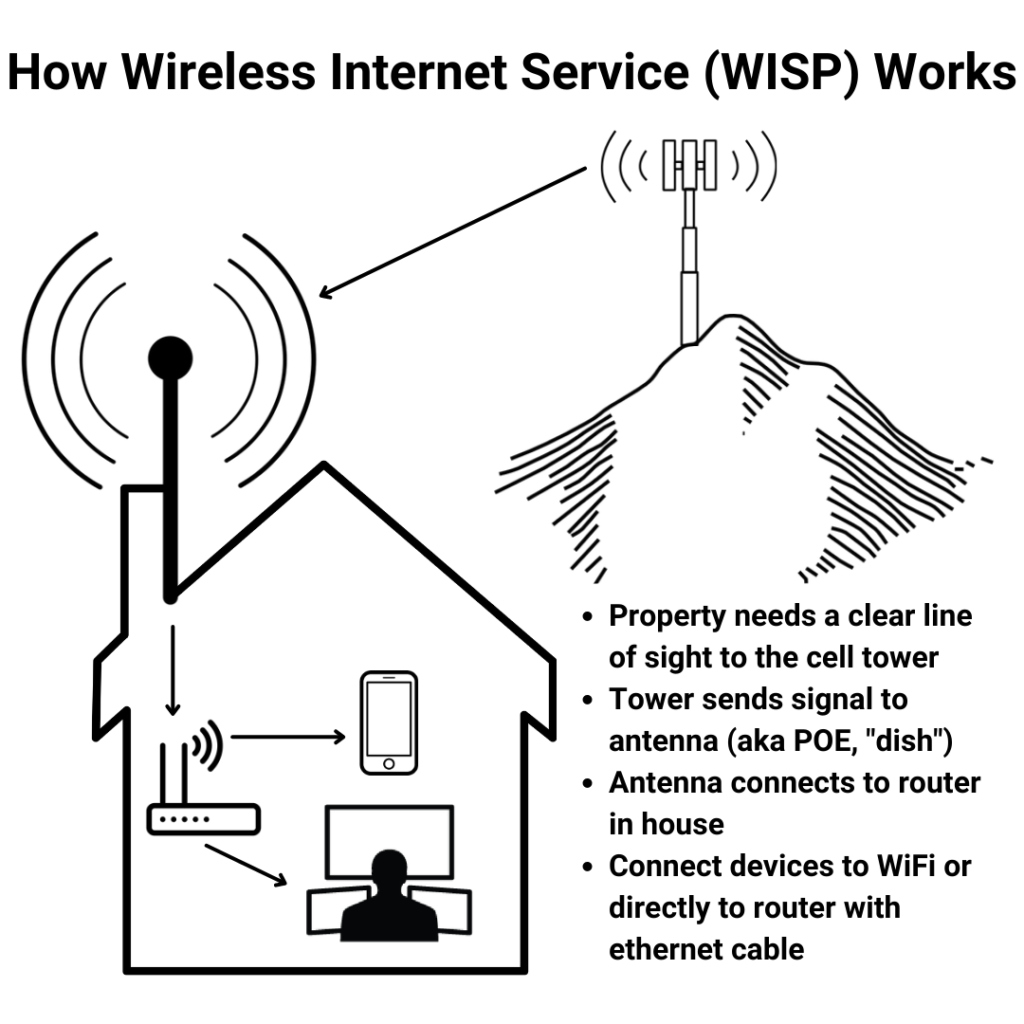 The radio antenna needs power from a power supply. It also must connect to your wireless router. To do this the ethernet cable is run by drilling a hole into the home. That ethernet cable connects the radio antenna to the PoE (power supply). Then the PoE connects to your wireless router through the other ethernet port. Wireless internet equipment uses ethernet cables. It cannot connect to a coaxial cable or telephone line.
4. What Does Installation Cost?
As of 2021, Webformix charges $100 for standard wireless internet installation. At the time of installation, you will also need to pay a $50 equipment deposit and you will need to pay for your first month of service (for standard installs).
If you want to purchase a router from us, those are $75. Surge protectors are also available for purchase at the time of installation, we charge $10 for those. Pricing differs for tree installations because an arborist is hired. Juniper Acres installations and commercial internet installations also have different pricing due to the different circumstances.
5. What is a Tree Installation?
Properties with heavy tree coverage can struggle to get wireless internet reception. In some cases, the Webformix radio antenna ("dish") is installed in a tree. This is only done when the standard installation will not acquire the proper signal levels. Tree installations increase the cost of installation and require work on the part of the property owner to dig a trench. Tree installations can encounter issues such as wildlife, weather, and nature in general, but we do our best to mitigate these risks and strive to provide lasting wireless internet infrastructure. Read our Tree Installation Agreement and get more details on that webpage.