The Sales Team at Webformix is always standing by when customers have questions about signing up for our fixed wireless internet service. Fixed wireless internet works differently than DSL or cable internet. Customers often have questions about how our services work and where it is available. If you are considering Webformix as your internet service provider, you might be wondering about these common questions too!
1. How Does Fixed Wireless Internet Work?
Customers need to have a clear line of sight to the particular communication towers that host Webformix fixed wireless internet infrastructure. Obstructions like trees, hills, and buildings can block signal transmission and prevent us from providing service to your property. If you do have a clear line of sight, the wireless internet signal from the communication tower will be able to connect to a radio antenna that is mounted on your house. That antenna is technically a modem and connects to the wireless router inside your home. You are able to access the internet when you connect your device to the router with an ethernet cable or through WiFi.
2. Can I Get Fixed Wireless Internet Service at My Home?
When you call to sign up for Webformix fixed wireless internet service, we will first check your location on Google Earth. We use a custom mapping feature to check if our communication tower's signal is within range of your home/business. In some cases, we can tell right away if we will be able to provide service. In other cases, we may need to send a technician out to your property. They will check whether or not your property will get good signal reception. We call these checks "site surveys," and they are always free. We will only install fixed wireless internet service if we can get you a good signal!
3. Does Internet Service from Webformix Have Data Caps?
When Webformix is your internet service provider you don't need to worry about data caps, contracts, or hidden fees. We keep things simple! Many companies offer broadband internet services with data caps to limit how much data you can consume in a given time period. They may also have overage charges and hidden fees that pop up unexpectedly. Webformix doesn't follow this model. We have a variety of plans with a variety of speeds available. If you need more you can change your plan at any time. You may encounter slowed internet service if your home network is overloaded. However, we do not "throttle" your internet speed like big cable and DSL internet companies do.
4. Is Fixed Wireless Internet Good for Business Internet?
Webformix is a great option for business internet service, in fact, we use our own internet! it can be difficult to get a reliable business internet service if you are a rural business owner. With even more people working from home now, it is also important to be able to get business-quality internet for your home. Luckily, Webformix offers the Super Power User Plan which features broadband internet speeds. Our Power User Plan is also a great option for businesses and people who are working from home and using video conferencing apps like Zoom.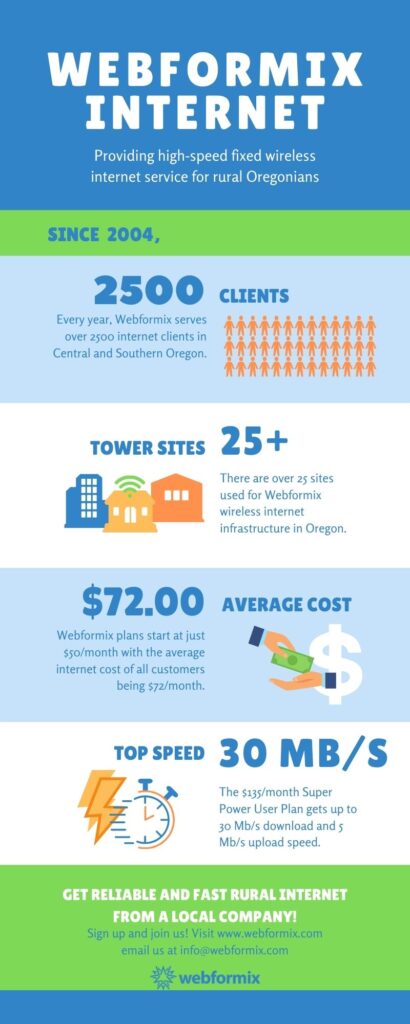 5. What Can I Expect When I Sign Up for Internet Service?
After we determine that we can provide you with service, our process for signing up for fixed wireless internet service is quite simple and stress-free. First, we will make sure that you understand what type of wireless router you need. Our installation technicians also have them available for purchase at the time of installation. We'll also make sure you know that you must have a surge protector to use with the power supply ("POE") for our radio antenna. After we explain the equipment, we will schedule your installation.
At the time of installation, you will need to be home so you can provide payment and coordinate with the installer as to where the equipment can be installed and which wireless internet service tier you want.
If you purchase a router from us, the installer will get that set up for you. If you supply your own router, you will need to set up your own router. At the time of installation, the technician will take payment (cash, check, or credit card) for the installation cost, the equipment deposit, and your first month of service. You will be billed every month on the same day that your installation took place.
What happens after you are signed up and your fixed wireless internet service is installed? You are welcome to contact Webformix support if you run into any issues. You can also call us if you want to change your service tier. If you are a part-time resident or go away on vacation, we offer a $10 per month vacation mode (30-day minimum).