Food delivery apps have exploded in Central and Southern Oregon. While these apps had already made a big splash in major metropolises, the COVID-19 pandemic accelerated their growth in smaller markets like Bend and Grants Pass. With this boom has come the realization that food delivery apps are significantly more expensive than picking up your own take-out and can also strain restaurant owners by imposing high fees. This has led restaurants and customers to look out for alternatives to major restaurant food delivery apps in hopes that they have more support for local businesses. So, what is the best food delivery app for cities like Bend and Redmond? Can you even use food delivery apps in smaller towns like Prineville or Madras?
Major Food Delivery Apps
These big names in food delivery have gotten huge during the COVID-19 pandemic. Now that more and more people have tried restaurant delivery, it is likely they will remain major players. However, concerns have arisen over the expenses restaurant owners pay to be part of these platforms. Still, being in smaller cities like Bend and Grants Pass means that you will find the most options through the big guys.
GrubHub and DoorDash Restaurant Food Delivery
GrubHub is currently one of the biggest restaurant food delivery services, it's options seem to expand and contract on a whim. Their customer service and driver quality tend to be a bit better than DoorDash. GrubHub offers very good deals on fast food and fast-casual restaurants but tends to not have as great of deals for local restaurants.
DoorDash is another big player in restaurant food delivery, they offer a very large selection like GrubHub and seem to have more consistent availability. Both DoorDash and GrubHub have been criticized for their very large fees taken from restaurants along with the hefty delivery charges and service fees that customers pay. With GrubHub and DoorDash you can expect to pay $10-$20 in addition to the cost of your order, and also tip is not required but it is expected and encouraged (fees don't go to drivers).
Uber Eats and Postmates Restaurant Food Delivery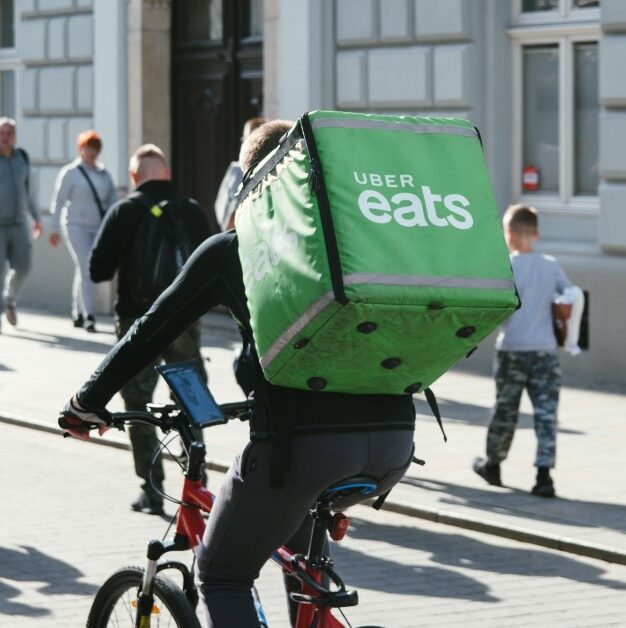 Uber Eats is one of the newest restaurant delivery platforms. You'll notice its interface is exactly the same as Postmates with the same options. That is because Uber Eats has purchased and integrated Postmates. Uber Eats and Postmates is a bit different than GrubHub or DoorDash because they shop drug stores like Walgreens and convenience stores like 7-11 in addition to restaurant delivery. Postmates used to have more options for grocery and drug stores but their model likely shifted more to restaurant delivery since Instacart has virtually monopolized the grocery delivery market. Uber Eats/Postmates have a huge selection of restaurants in Bend and Grants Pass.
Rural Restaurant Delivery Availability
Here's an overview of major restaurant food delivery apps and their availability in the more rural areas that surround Grants Pass and Bend, OR. While options are severely limited, you may be surprised that some do exist!
| | | | |
| --- | --- | --- | --- |
| City | GrubHub | DoorDash | Uber Eats/Postmates |
| Bend, OR | many options | many options | many options |
| Grants Pass, OR | many options | many options | many options |
| Redmond, OR | many options | many options | many options |
| Prineville, OR | few options | few options | not available |
| Culver, OR | few options | not available | not available |
| Madras, OR | few options | not available | not available |
| Terrebonne, OR | few options | some options | some options |
| Rogue River, OR | few options | some options | few options |
few options = 1-3 options; some options = 3-10; many options = 10+ restaurants
Amazon Restaurants
Amazon Restaurants has been discontinued. It is just one of the many Prime membership benefits that rural members never got to enjoy and has now been eliminated completely. For those who were able to use Amazon Restaurants, it was a great platform that worked well. The company claims that the service was failing and thusly ended, but details are scarce on why it was failing.
Alternatives to Major Food Delivery Apps
If you are looking for an alternative to the major restaurant food delivery apps, there are some smaller companies that you can try. Their availability and options are definitely more limited, but they may make more effort to support local restaurant owners.
ChowNow
Eat.chownow.com has less selection than major food delivery apps and less delivery availability. They are available in Bend and include just a few options for Grants Pass. ChowNow seems to be making an effort to support local restaurants in ways that major food delivery apps do not. Namely, they send more profits back to the restaurant. While ChowNow does not have very many options, it would be worth trying out for that reason. The delivery fees can be significantly less than major food delivery apps. ChowNow tells the restaurant owners, "You have the power to choose how much of the fee your restaurant will absorb and how much you'd like to pass on to your customers."
Deliver Club
Deliverclub.com also has a limited selection but includes some local favorites for Bend (not available in Grants Pass). Deliverclub.com is aiming to minimize fees and work more directly with restaurants. Their full business model is a little hard to grasp due to confusing "partnership" services. They seem to have a complex commission structure in place. They likely offer some sort of benefits over major restaurant delivery apps, but they also seem to be replicating the same model despite claiming to be by restaurateurs and for restaurateurs. Despite this, they are an alternative to the food delivery giants.
Ordertakeouttoday.com is a partner of Deliverclub.com so you might as well just use that website, the interface and options are the same. The DeliverClub company often buys other domain names and just clones their website to them. There are actually even more URLs in addition to this clone. This is due to their partnership model, and while it may be good for marketing it is confusing to consumers.
Vroom
Vroomdelivery.com is not available in Grants Pass. In Bend, Vroom only delivers from the convenience store Stop and Go Shell HWY 20, their selection includes snacks and alcohol (growler delivery even!).
BringMeThat.com
Bringmethat.com is available in Bend and Grants Pass with limited food delivery options but many pick-up options. Their FAQ is very vague and uninspiring. They might be worth trying if they offer a specific restaurant you like that isn't on another platform.
Caviar
Trycaviar.com is owned by DoorDash if you look closely. They do have great options for Grants Pass and Bend, but this service seems to just be another shell for DoorDash that is imitating a smaller independent operation. There's no reason to use it instead of DoorDash except to take advantage of initial new customer deals.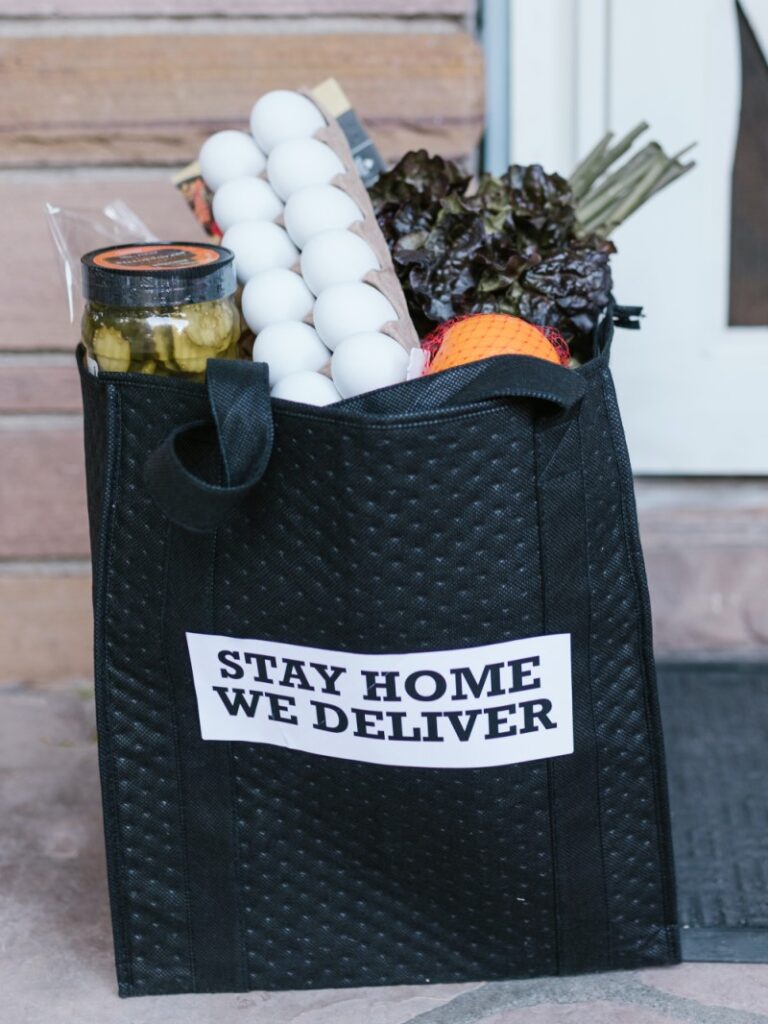 Grocery Delivery Options
In addition to restaurant food delivery, many people are discovering the convenience of grocery delivery and pick-up options. Grocery delivery is dominated by just a couple of big players. There are a few smaller companies and local options that are available though.
Instacart Grocery Delivery
Instacart has taken over grocery delivery like no other. Their main contribution is their software and app platform and their contracted delivery drivers. They used to employ in-store shopping teams. Now, in-store shoppers are store employees or the delivery driver does the shopping. Many people are even using Instacart without even realizing it. This is because many grocery store websites are actually Instacart pages that have been customized.
Through Instacart you can choose delivery or pick-up for all of the major grocers like Safeway, Albertsons, and Fred Meyer. Petco, drug stores, and alcohol delivery are also widely available. The downside is that in recent years the company has sent its customer service to overseas call centers which can make resolving issues difficult, frustrating, and time-consuming. If you order through Instacart, the store you shopped from cannot provide you with customer assistance or refunds.
Walmart Grocery Delivery
Walmart grocery delivery has become another major player. They have a very large catalog of products to choose from and the cost for grocery delivery or pick up is noticeably less than with Instacart. Instacart does increase product prices in addition to its various fees, so Walmart is a cheaper alternative.
Walmart also has an edge in its ability to offer more than the basic products you find in a grocery store. The only drawback is that since Walmart does not pay or train its employees as well as traditional grocers, the quality of the items and replacements your in-store shopper picks is generally not as good as with Instacart. Instacart shoppers have a much better algorithm on their shopper's app that recommends replacements better (using customer shopping history).
Local Grocery Delivery Companies
Bendgrocerydelivery.com is a local food delivery service for Central Oregon. For this service, you simply write a grocery list for your shopper. They offer Trader Joe's, Whole Foods, Newport Market, Safeway, Albertsons, and Natural Grocers. For $100+ orders you pay store prices plus 20%, for orders less than $100 you pay store prices plus a $20 fee. They even offer delivery to remote rural areas for an extra long-distance fee. Bendgrocerydelivery.com is based in Bend, so that fee applies to Redmond ($10), Terrebonne, Eagle Crest, Sunriver, Powell Butte, Pronghorn, Brasada Ranch, Sisters, Three Rivers ($15), La Pine, Prineville ($20), and they will even deliver to campgrounds! This is a great alternative to the big grocery delivery apps that is truly local.
Grocery Food Delivery Apps Not Available for Rural Oregon
There are two major food delivery apps that are not yet available in Southern Oregon or Central Oregon. Those are Amazon Prime and Shipt.
Prime Grocery Delivery: Despite having Whole Foods in Bend, OR, Amazon Prime does not offer grocery delivery in Bend or Grants Pass.
Shipt: Shipt is very similar to Instacart or Walmart but it is owned by Target. Unfortunately, it is not currently offered in Bend or Grants Pass.
Best Food Delivery for Rural Oregon
The best food delivery for rural Oregon will depend on what matters most to you. If you are looking for the most options and most availability, major delivery apps like GrubHub, DoorDash, Uber Eats, Instacart, and Walmart will be the best options. If you are more concerned with ethics and how well apps treat local businesses there are definitely some great alternatives to try!