Search engine optimization (SEO) is how websites gain online visibility. Local SEO can be used by small businesses to improve their online visibility. SEO is not one single thing, it is a collection of activities that help your business appear on the first page of Google and other search engines. Some SEO will necessitate a website designer, website developer, or marketing specialist. However, there is a lot that local small business owners can do on their own to improve their online visibility.
Local SEO Terms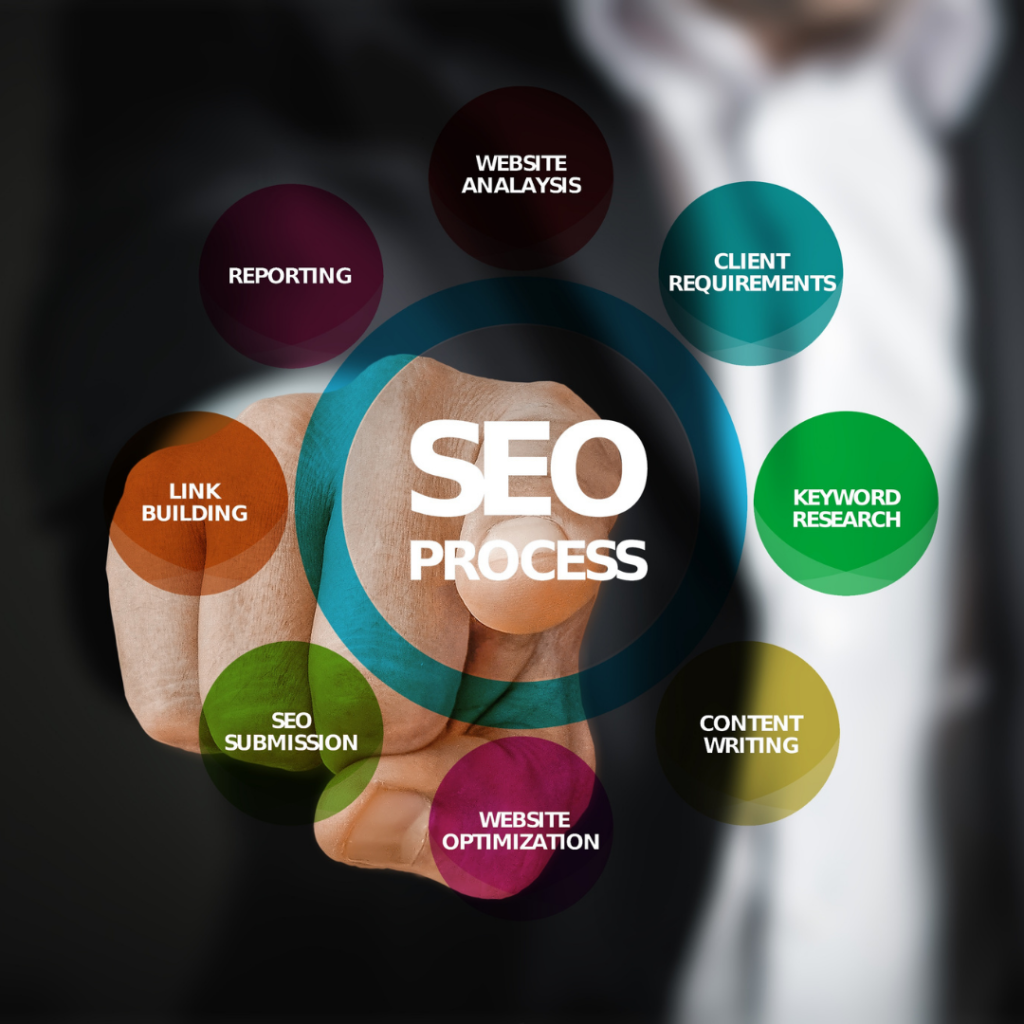 Search Engine Optimization (SEO): SEO increases the quantity and quality of your website traffic and boosts your online visibility by implementing techniques that make your presence more known to search engines like Google.
Local SEO: Local SEO aims to increase traffic to physical businesses and make them more visible online to people who are locally searching for those products/services.
Organic SEO: Organic SEO techniques are used to make your website more visible in unpaid search results (as opposed to paid ads that appear on top of Google searches).
SEO Keywords: SEO Keywords are words, phrases, or questions that people type into search engines to find products, services, or information.
Complete Your Google Business Listing
The most important part of local SEO is completing your Google Business listing. It is the most basic and most essential part of making your small business visible online! You will want to have a Google account set up for your business first (if you don't already). Then you just need to sign in and start filling out your information. The information needs to be complete and accurate for the best results. Include flattering high-quality photos and video, at a minimum, add a photo of the outside of your business location and one of the inside of your business.
Update Your Google Business Listing
Google Business is not a set-it-and-forget-it tool. You need to keep it up to date with accurate hours and accurate information. Nothing is more frustrating to potential customers than getting the wrong information. Make it easy for them to find you, contact you, and patronize your business. You'll also be coming back to your Google Business profile to monitor and respond to reviews. Think of it as an extension of customer service because essentially it is!
Set Up Google Analytics and Google Search Console
You will also want to set up Google Analytics and Google Search Console which will provide helpful metrics. With these, you will be able to see how you are ranking on Google and find out how many people are looking for you online. You may need help getting this setup, the best person to assist you is the person who manages or created your website.
Search for Yourself and Manage Your Reputation
Outside of Google, you should have business profiles on other websites such as Bing, Yelp, and various business directories. You can find these listings by searching for your business name and seeing what appears. Some directory websites will allow you to claim your business so you can keep the information up to date.
Once you locate your listings, make sure they are accurate. Next, you can look for other sites where you are not yet listed and create profiles. Do not pay for listings on directory websites. They can be insanely expensive and paid profiles will not significantly improve your online visibility and local SEO.
Be Active on Social Media
You should have social media profiles for the following websites at a minimum:
Facebook
Instagram
Twitter
LinkedIn
NextDoor
Depending on your industry you might also want to use platforms like TikTok, Snapchat, and Pinterest. In order for your social media posts to be effective you need to pay attention to three aspects: content quality, posting frequency, and posting time. For Facebook, Instagram, and Twitter, you need to post at least three times per week to really be seen as active. However, you do not want to make spammy posts which is why content quality really matters. There are also certain times of day that are optimal for posting content.
Managing social media content can be a challenge. First, you need to know who your customers are and what they will want to see. Make posts useful and engaging. You can use a social media publisher like Later to schedule your posts. The free plan on Later is great for small businesses, as is the free plan for Canva which gives you all sorts of design templates and tools for making interesting posts and stories.
Solicit Google Business Reviews and Yelp Reviews
Asking for reviews can feel awkward, and most platforms have policies against incentivizing reviews. Truly, customers are often eager to leave you a review if they love your business. Whether it is a flyer, a sign, or an email, ask your customers to leave reviews for your business on sites like Google, Yelp, Facebook, and NextDoor. These reviews have a major impact on local SEO. It is also important to participate in the review process. Thank people for leaving positive reviews and supporting your business. If you get a negative review, approach it with a customer service mentality and try to solve it for the customer. Listen to the feedback you get and take actionable steps to improve.
Have a Modern and Well-Structured Website
Having a website is important, but having a poorly designed website will not help you. Regardless of what kind of small business you own, make sure you are putting your best foot forward. It is better to keep things clean and simple than add too many bells and whistles.
Local SEO: Website Front Page
The front page of your website should showcase your business and products or services. It is an important place to have text that utilizes keywords that people use when they search online. We'll talk more about keywords next. On your website's front page, make sure that any pictures are properly sized and professional-looking. If you want to use stock photos, they must be "CC0" or public domain images. You can find these for free on websites like Pexels, Pixabay, and Unsplash or purchase them from a site like Shutterstock.
Local SEO: Website About Page
Tell the story of who your business is, who your employees are, and what your product is. This is a great place to create a more personal connection to customers and show how you support the community.
Local SEO: Website Contact Page
It is essential for your contact page to be accurate. If you are going to use a contact form, be 110% sure that it works. Provide your address, phone number, and email and make it easy for customers to get in touch with you!
Local SEO: Website Blog
A website blog can be a great way to educate consumers and create sharable content for social media. However, in order for your blog to be effective, you need to have someone on staff that understands blogging and can do it on a regular basis. Blogs need to be original content that uses pertinent keywords and captures relevant topics. When they are done well, they can improve organic SEO as well as local SEO. However, a poorly done blog could have adverse effects so only pursue it if you can commit to maintaining it on an ongoing basis.
Local SEO: Subdomains vs Subfolders
When it comes to the structure of your website, it is very important! You will want to make sure your website manager has a sitemap and robots.txt file to help Google "see" it better. There are two ways to create pages on your site. A Subdomain looks like southernoregon.webformix.com. A folder looks like webformix.com/southernoregon. Your website specialist may have their own preferences, but in most situations, it is better to structure your pages as subfolders. Webformix made this change when we updated our website, but we keep certain pages like our payments page as a subdomain for security and technical purposes.
Identify Keywords and Use Them Appropriately
The text on your website should contain keywords that are relevant to your business. A keyword is a term that someone types in a search engine to find relevant information. There are also long-tail keywords which are long phrases or questions used in searches. Moz.com offers free plans that allow you to find keywords. You can also find them just by typing into Google and seeing what populates in the list below. The Keywords Everywhere plug-in is another free resource that is helpful.
Local SEO Keywords
Keywords have both local and national rankings. Webformix may rank on the front page of Google for local web searches for the keyword "best internet provider." However, we may not rank at all for that keyword nationally. Over-using keywords or using them inappropriately can have negative consequences though. You can learn more about how to use them in Ahref's Keyword Guide.
Local SEO Search Rankings
There's a limited amount of space on the front page of Google, so it is very competitive to rank within the top 11 spots. Your rankings are hard to see unless you pay for SEO tools like Moz, SEM Rush, or Ahrefs. Of those three, Moz is most affordable. You can improve your rankings by having a high-quality website, publishing keyword-rich content on your website, having other sites link to you, having links to other websites, and having good reviews online.
Learn More from Free Local SEO Resources
There are some really wonderful free SEO resources available. You will be surprised to learn that you can teach yourself most of the skills you will need! Online marketing does have a very technical side, but there is so much you can do on your own to improve your visibility.
Final Thoughts on Local SEO
It might be hard for you to tell, but all Webformix blogs are truly part of our own local SEO and organic SEO. The better our SEO is, the less we need to spend on advertising because our website will already be appearing on the front page. SEO can be a challenge, but it can also be rewarding to see the results. Your online presence as a small business is important, it is how people know that you exist. However, you also want your online presence to be sustainable. That means ensuring that what you put online looks and sounds professional. Even if you only go so far as to complete and monitor your Google Business Listing, it will be a huge help in getting more customers to your business.