Webfromix Home Internet Deals and Promotions
Webformix isn't always the cheapest home internet option, but as a local small business, we truly appreciate our customers. If you are looking for internet deals near you, these are promotions that you may be able to take advantage of. From referral bonuses to ongoing discounts, Webformix has some great internet deals to take advantage of.
Refer-A-Friend Internet Deals
If you are a Webformix customer that refers a friend, you could get a free month of internet service! After your referral has held their service for 30-days, you will get a credit on your next invoice. Be sure that the person you refer tells us your full name (with correct spelling) when they call to set up service!
Move-In Special Internet Deals
If you are moving into a residence and our equipment has not been uninstalled, you're in luck! As long as our radio antenna ("dish") is still mounted to the home, we waive our standard install fees. Instead, you pay only a $20 admin fee and a refundable $50 equipment deposit. If you need a power supply for the antenna or if you need to purchase a router from us, a stop by our office may be required.
10-Year Clients get 10% Off
Loyalty means a lot to us here at Webformix and we want to reward our long-time customers. If you have been a Webformix client for 10-years, you will receive a 10% discount on your monthly service! Best of all, no action is needed on your part. We regularly audit accounts and apply this discount for you. The only thing you might need to do is adjust your auto-pay to reflect that discount on your invoice.
Pay for 11-Months and Get 1-Month Free
All Webformix clients are welcome to pay for 11-months of service and receive a free month of service! We can bill you annually so you don't have to worry about paying a monthly bill. All you need to do is send us a check for 11-months of service. You can also pay online, but if you do please do give us a call to notify our billing representative that you'll be taking advantage of this internet deal!
Vacation Mode
If you are going on vacation or use our service at your vacation home, you have the option to pause your service for just $10 per month. A 30-day minimum is required to get the vacation rate of $10 per month.
Webformix Referral Agents
Webformix referral agents are realtors and other home service companies that may direct you to us for internet service. As a Webformix referral agent, you get rewarded for sending us new clients. If you are interested in becoming a Webformix referral agent, read over this linked document to get more details and give us a call to get established!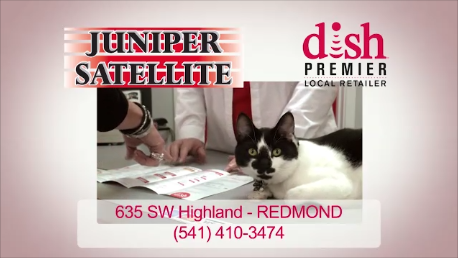 Juniper Satellite
Juniper Satellite in Redmond, OR is a Dish retailer specializing in TV service for Central Oregon. Since Webformix does not provide TV services and Juniper Satellite does not provide internet services we work together to help homeowners get everything they need.