Having a lower internet bill may seem unimaginable. Big internet companies don't often offer actionable savings outside of bundles that add on more services than you need. If you really want to lower your internet bill, Webformix offers plans that suit your individual needs. You can always add-on upload speed or a static IP if you need one. Our plans are admittedly not always the cheapest option, but there are ways to save and economical options. Whether you are a current Webformix customer or are interested in getting our fixed wireless internet service, here are some great ways you can spend less while still getting fast and reliable internet service with hand-crafted customer support!
1. Lower Your Internet Bill: Bring Your Own Router
Webformix does not have any mandatory equipment purchases! If you'd like to purchase a wireless router from us, they are $75 and include support, configuration, and a one-year warranty. However, if you want to lower your internet bill, you can save some money by purchasing a cheaper router from an electronics store or department store. You'll have to set it up and troubleshoot it yourself if problems arise, but if you are comfortable with that you can save some money.
2. Get a Cheaper Internet Plan
Another way to lower your internet bill is to use a cheaper internet plan. If you understand your speed needs well, you can get a plan that is only what you need. Webformix offers free week-long trials of our internet plans to established customers. This way, even if you don't understand your needs you can find the right plan by trial and error. While our Power User and Super Power User Plans offer fantastic speed, they might be more than you actually need. Likewise, you won't get flexible options like this from big internet companies or satellite internet.
3. Lower Your Internet Bill with Internet Deals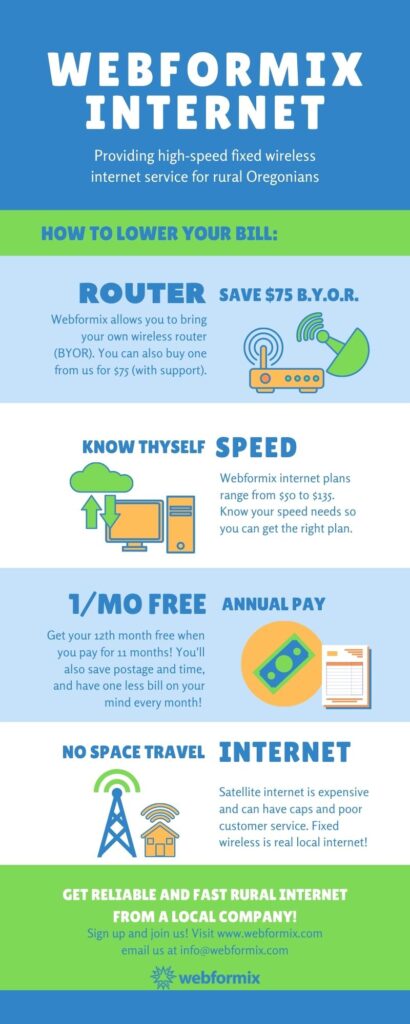 Webformix does offer some internet deals that can help you to lower your internet bill. For example, if you pay for 11 months of service, you will get the 12th month for free! When you refer a friend and they install our service, you can also get a free month of service! Additionally, you will get 10% off your monthly bill after being a loyal customer for 10 years. While local small businesses like us operate on thinner margins, we still do our best to offer internet deals for our customers to help them lower their internet bills when possible.
4. Choose Fixed Wireless vs Satellite Internet
With fixed wireless internet from Webformix, there are no data caps, no contracts, and no hidden fees. We believe in providing simply good internet without gimmicks, bundles, or confusing pricing. We are also staffed by local support that you can easily get in touch with. The same cannot be said for satellite internet. You are likely to pay more and have a more frustrating experience with satellite internet. Not to mention that satellite internet can be unreliable when there are weather events and may charge data overages!
5. Manage Your Bandwidth Use
If you want a cheaper internet plan, but know your usage is more than it would support, you do have the option to change your habits. By using fewer smart home devices, or watching videos in SD instead of HD, you can reduce your need for an expensive internet plan. By managing your bandwidth use better you can take advantage of more economical internet plans and lower your internet bill.